Melton Cap Toe
Details
Melton Cap Toe
Additional Information
DETAILS
Item
Crafted of hand-selected calfskin for a premium look and feel.
Exclusive Optima® Comfort System with multi-layered cushioning is engineered for optimal comfort, support and flexibility.
Leather lining with perforated for forefoot enhances breathability.
Leather sole and combination stacked leather/fineline rubber heel for a clean, dressy appearance.
Goodyear welt construction allows leather to mold to your foot for a truly individual fit.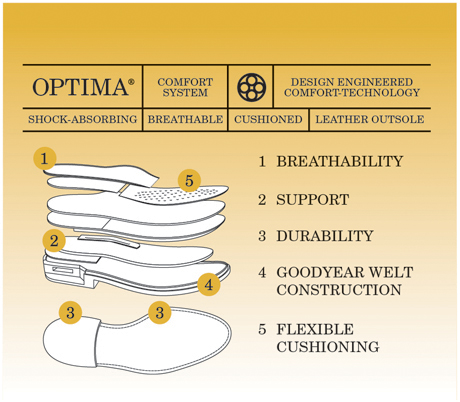 Free Shipping & Returns
See more
See less
Free ground shipping on orders over $100 and free returns, all the time. Usually arrives in 4-7 business days. Each order comes with a prepaid return label for free returns by mail, or items may be returned or exchanged at any Johnston & Murphy store, free of charge.
SHOW US YOUR #JOHNSTONANDMURPHY STYLE
#JOHNSTONANDMURPHY
RATINGS AND REVIEWS
A classic design that never grows old
David Bradshawe
Toronto
I spend most my day and work boots and sneakers. I have had my dress shoes for 20+ years! It was time for a new pair and I didn't want to go to a warehouse-type shoe store. Was treated well at my local Johnson & Murphy store. I was sized correctly and found a great dress shoe.
WaltZ
Central NJ
Great shoe. Great online support. Stores need training
Great shoe. I've been wearing them for over 15 years for work, church and dress occasions. For an all leather shoe it is comfortable, but your feet do fatigue if standing for hours. They are a good value even at the high price.
Look your best
Geismar LA
Dress shoe for work
Otis
Dallas, TX
I always really enjoy shopping at "Johnstonmurphy"
The customer service is always excellent and thank you
Alston
Canada
Yes,I would buy this shoe again.
Good dress shoes
Big James
Chicago Illinois
I have always been a fan of the shoes sold at Johnston&Murphy. Their shoes are classy,stylish and built to last
JOJO
WASHINGTON DC
Beautiful shoe. However, I could not find the right fit.
Beautiful shoe. However, I could not find the right fit and I tried almost every width in my foot length. I may need custom made shoes. My heel is narrow while my toes need extra room.
Narrowheelwidetoe
Syracuse
I use the shoes for special ocassions, they are very comfortable and very good looking
Pcf
Saint Louis, MO.
Difficult to make fit right
I have a pair of these in tan. I usually get size 11 EEE or 11.5EEE. After tying those I went for size 10.5 EEE. They fit alright ( still not great) but slip a little in the back. I got the same size on black, and they fit completely different. They are to narrow in the toe, and too wide in the middle and back of the shoe. This leaves me with a shoe that pinches my toes, wrinkles, because it is too wide in the middle, and slips in the back. I tried a smaller size not width, and it still slipped. The problem is that it is too wide in the back and too narrow in the toe. I am at a loss as to what size to get.
Greg
Spring Grove, PA