XC4® Branning Cap Toe
Details
XC4® Branning Cap Toe
Additional Information
DETAILS
Item
• Dual width adjustability.
• A trimmer, dressier profile built with XC4 waterproof extreme-comfort technology.
• Full-grain waterproof leather upper with seam-sealed construction.
• Advanced construction reduces overall weight, optimizes flexibility.
• Molded footbed and midsole for support.
• Removable memory-foam cushioned insole with sheepskin/moisture-wicking performance fabric cover.
• High-density rubber sole for shock absorption and durability.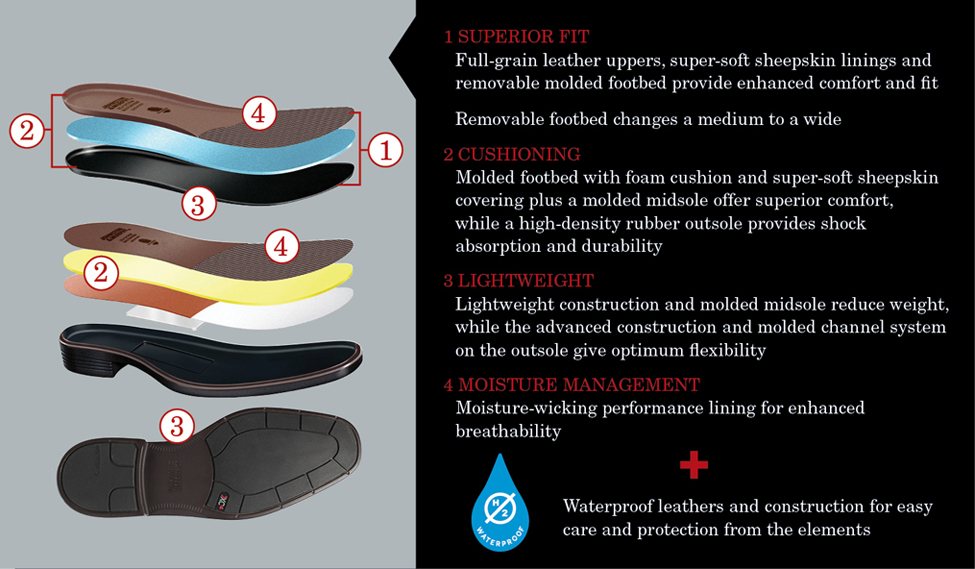 Free Shipping & Returns
See more
See less
Free ground shipping on orders over $100 and free returns, all the time. Usually arrives in 4-7 business days. Each order comes with a prepaid return label for free returns by mail, or items may be returned or exchanged at any Johnston & Murphy store, free of charge.
SHOW US YOUR #JOHNSTONANDMURPHY STYLE
#JOHNSTONANDMURPHY
RATINGS AND REVIEWS
yes..mr. Johnson & Murphy
I'm very happy with the style and color. ..
the joe
el paso tx
Very happy with the style and comfort
very happy with these shoes, solved a problem i was having with my feet and legs.
Hammer
tiffin, ohio
Best Airport Purchase EVER
I purchased these shoes in the Denver Airport during a layover. They are the most comfortable dress shoes I've ever experienced. They were so comfortable, I wore them right out of the store and for the rest of my trip. A friend was raving about how comfortable and durable Johnston & Murphy shoes are and so I sought them out while at the airport. I had about 90 min between fights, took the train to the B-Terminal, tried on a couple types and fell in love with these. I can't wait for my next layover!
Satisfied Comfort and Style
Tucson, AZ
They are great! Very comfortable and stylish, yet durable, which is what I need to look nice while I visit a shop floor.
Chad
Cincinnati, OH
Great service and product
The shoe fits comfortably, easy wear and can dress up or down
K Hodge
Jacksonville, FL
If you are looking for style with comfort please try these shoes!! You will not be disappointed!!
Lifetime Customer
Indianapolis, IN
Fourteen hours and no pain
I work generally 6am to 8 pm m-f. These shoes have kept me going with no foot pains. Their amazing.
Marc
Wash DC
Comfortable, Stylish & Rockin - Love It!!!!
Everything which I wanted, expected and got.
Michael
Elmont
This is a great shoe, it is very comfortable. I usually wear inserts in my shoes, with these I don't need anything other than what is already in the shoe!
Mike
Philadelphia
Decent shoes but not fully waterproof...
These shoes run a little smaller than other Johnston & Murphy shoes I have owned both in feel and look. They do feel comfortable after breaking them in a little bit. I wear these out casually and professionally. I bought them primarily as an upscale waterproof work shoe to wear out in inclement weather to wear with suits. While they serve their purpose I would say that I prefer these for casual wear over professional based on looks. Durability is a question for these shoes. The sole has held up surprisingly well; however, the side of one foot where the toe cap is sewn in recently tore open. I do a decent amount of walking in all kinds of weather, but I do not expect the side of a shoe to split open like this. Most importantly, I do not know if I would call these shoes "waterproof." They definitely keep my feet dryer than non-waterproof shoes, but they have never been totally watertight. When I think of waterproof shoes I expect to be able to step in small puddles and get rained on without water coming in the sides of the shoes. These have never kept my feet totally dry and water definitely seeps in through the sides. Again, definitely a step up from non-waterproof, but if you are looking for a dress shoe that keeps your feet totally dry, my experience is that these will not accomplish that.
NYC Walker
New York, NY
XC4® Branning Cap Toe
82.2