XC4® Branning Cap Toe
Details
XC4® Branning Cap Toe
Additional Information
DETAILS
Item
• Dual width adjustability.
• A trimmer, dressier profile built with XC4 waterproof extreme-comfort technology.
• Full-grain waterproof leather upper with seam-sealed construction.
• Advanced construction reduces overall weight, optimizes flexibility.
• Molded footbed and midsole for support.
• Removable memory-foam cushioned insole with sheepskin/moisture-wicking performance fabric cover.
• High-density rubber sole for shock absorption and durability.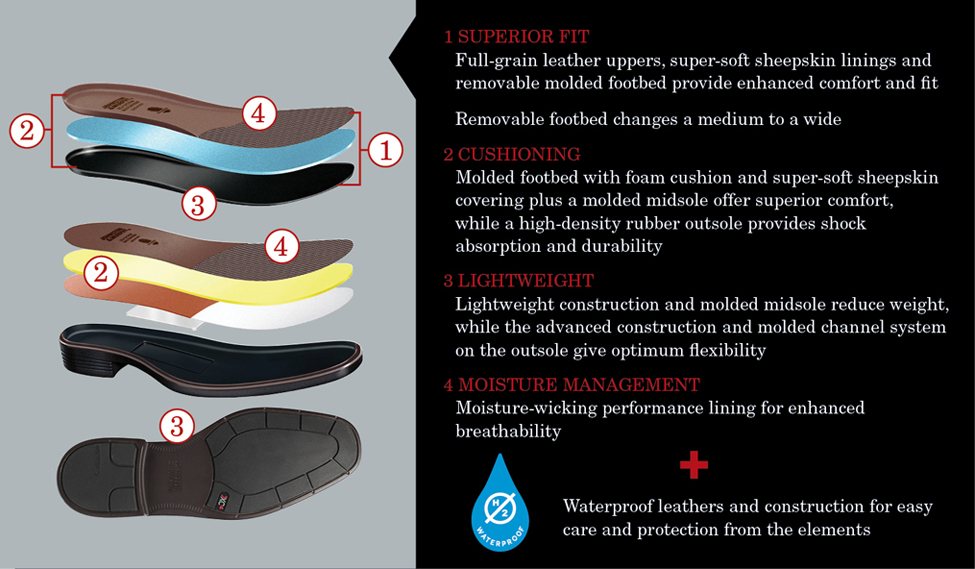 Free Shipping & Returns
See more
See less
Free ground shipping on orders over $100 and free returns, all the time. Usually arrives in 4-7 business days. Each order comes with a prepaid return label for free returns by mail, or items may be returned or exchanged at any Johnston & Murphy store, free of charge.
SHOW US YOUR #JOHNSTONANDMURPHY STYLE
#JOHNSTONANDMURPHY
RATINGS AND REVIEWS
Comfortable, Stylish & Rockin - Love It!!!!
Everything which I wanted, expected and got.
Michael
Elmont
This is a great shoe, it is very comfortable. I usually wear inserts in my shoes, with these I don't need anything other than what is already in the shoe!
Mike
Philadelphia
Decent shoes but not fully waterproof...
These shoes run a little smaller than other Johnston & Murphy shoes I have owned both in feel and look. They do feel comfortable after breaking them in a little bit. I wear these out casually and professionally. I bought them primarily as an upscale waterproof work shoe to wear out in inclement weather to wear with suits. While they serve their purpose I would say that I prefer these for casual wear over professional based on looks. Durability is a question for these shoes. The sole has held up surprisingly well; however, the side of one foot where the toe cap is sewn in recently tore open. I do a decent amount of walking in all kinds of weather, but I do not expect the side of a shoe to split open like this. Most importantly, I do not know if I would call these shoes "waterproof." They definitely keep my feet dryer than non-waterproof shoes, but they have never been totally watertight. When I think of waterproof shoes I expect to be able to step in small puddles and get rained on without water coming in the sides of the shoes. These have never kept my feet totally dry and water definitely seeps in through the sides. Again, definitely a step up from non-waterproof, but if you are looking for a dress shoe that keeps your feet totally dry, my experience is that these will not accomplish that.
NYC Walker
New York, NY
I'm not sure how much more time I will spend wearing these shoes. I have owned them for 16 months and have worn them to work for 7 to 8 months in total. If people are looking for the Suffolk Cap Toe (same look, same price point, same comfort system, but discontinued) and want the equivalent, I recommend you keep looking. I am still alternating every other day (for over a year) between the Branning (hoping it will eventually break in) and a pair of Suffolks (nearly to the point of disintegration) because the Branning are refusing to break in to the point of being anywhere near where the Suffolks were after a few weeks. I know that some reviews say they have a very short break in period. I don't know if they had issues manufacturing some or if something has changed since I bought them last year, but that could not be further from what I'm experiencing. Smell can also be a factor. I know what you are thinking. This guy has smelly feet and he is blaming it on the shoes. I do not have this problem with any other pair of shoes I own. If I ever wear them for more than an hour, I can smell them when I take them off and it is not good. In conclusion, I recommend you look elsewhere for a comfortable shoe, I know I am.
Barry
Minneapolis
Im thinking about adding a 3rd pair!
I started my collection of the XC4 line with a Brown, 'Branning' Cap toe, and recently purchased a pair in black.... No break in period needed...basically feels like I am wearing a casual, but well suppported weekend type shoe. I am seriously thinking about adding a third pair...just not sure of the colour just yet!
Spiceman
Oakville
Use the shoes for interviews and work, are perfect for that
Matthew
Cincinnati, OH
Who would buy shoes at an airport?!
I never thought that I would be one of those guys who would shop for shoes at an airport. Who knew? Well, I'm glad I did! I picked up a great pair (XC4) while I was walking through Toronto Pearson last month. Love the comfort... right out of the box... little or no breakin required. I will definitely be purchasing another pair...perhaps in a different airport next time!
Spiceman
Toronto, ON Canada
Awesome shoe, I finally found a shoe I will continue to buy
Seems to be a great durable shoe so far. I need a durable, comfortable, stylish shoe for work. On my feet for hours at a time. I think I found a shoe that I can replace continuously with the same style of shoe. Glad that it is waterproof.
Dave
Grand Rapids, Michigan
Take a long time to break in.
Still cant wear them without developing massive blisters on my heels. These shoes are brutal. Am sure they'll be fine once I wear them in , but I cant walk for more than 15 minutes without taking them off. Hope this is a sign of durability....
Bob
Toronto, ON
This is a very good shoe. Very well main.
good product
Kid
dallas, tx
XC4® Branning Cap Toe
80.3