Deerfield Tassel Wingtip
Details
Deerfield Tassel Wingtip
Additional Information
DETAILS
Item
Premium polished European calfskin maintains a lasting shine.
Exclusive Trampoline® Comfort System with toe-to-heel EVA and resilient Poron®-foam and full leather lining offer superior cushioning.
Breathable full leather lining.
Leather sole and combination leather/fine-line rubber heel provide a clean, dressy look.
Goodyear welt construction allows leather to mold to your foot over time for a truly customized fit.
Each pair comes with a protective shoe bag.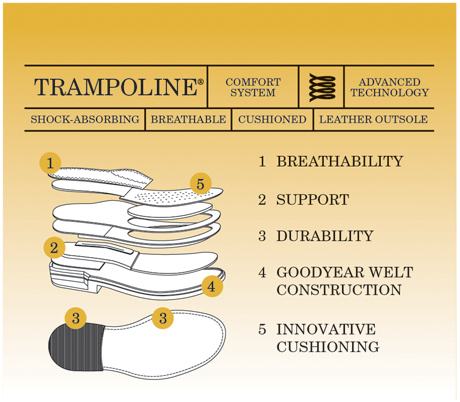 Free Shipping & Returns
See more
See less
Free ground shipping on orders over $100 and free returns, all the time. Usually arrives in 4-7 business days. Each order comes with a prepaid return label for free returns by mail, or items may be returned or exchanged at any Johnston & Murphy store, free of charge.
SHOW US YOUR #JOHNSTONANDMURPHY STYLE
#JOHNSTONANDMURPHY
RATINGS AND REVIEWS
Would buy again especially in brown
Great Service
Caej
Augusta Ga
The shoes I purchase from Johnston Murphy are hand made high
The Johnston's Murphy shoes I wear are hand made high quality shoes that I have worn for over 20 years I highly recommend them for value comfort and style
Bill c
Ft LAUDERDALE fl
Great classic style shoe , worn for all occasions.
Great looks and very comfortable to wear.
Steve1311
Detroit
Wear these shoes for many reasons. Looks great and very comfortable.
Steve
Michigan
i would buy this shoe again and have...
Classic styling, accents any dress attire. i wear suits to the office and this style adds class to any dress occasion. I have owned 5 pairs over the last 15 years, comfort and styling have exceeded my expectations.
Rico
Seattle WA.
The insole inside shoe is perfect for my feet making the shoe very comfortable. Loved the design but the cost is somewhat over the top.
Rob
Houston Texas
I love my shoes and these are the third pair of the same size and style I've owned. They last forever and I can wear them for 14 hours a day and feel comfortable. Yes, they are expensive, but considering how well made, how attractive and how comfortable they are, the only thing better would be to go in bare feet. But, I can't show up to court in bare feet.
Tom
Long Beach CA
Very comfortable and classy
Saying they run too big isn't accurate. I usually wear a size 11 in dress shoes and wore a 10.5 in these. I got them from the store so I was able to try them on to see fit. I love the shoe!
Ray
San antonio
Dignified events
Johnston guy
Rochester, Minnesota
Replacement for Ferragamo
I used to wear the Lucas style from Ferragamo for almost 20 years. They did away with that style. This has a similar look and I am hoping that as I wear it more it will last and will mold well to my foot. It is a little tough to slip into the shoe but hopefully that will improve.
Tennis Lover
Los Angeles
Deerfield Tassel Wingtip
93.3