Hyde Park II Cap-Toe
Details
Hyde Park II Cap-Toe
Additional Information
DETAILS
Item
Simply elegant lace-up oxford, needing no ornamentation other than its polished European calfskin upper.
Made with the Trampoline Cushioning System.
Protective shoe bag is included with purchase of this shoe.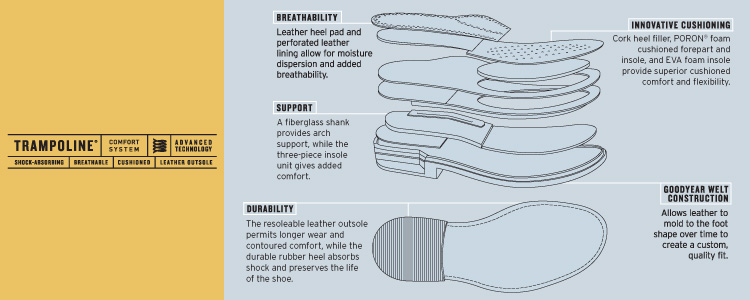 Free Shipping & Returns
See more
See less
Free ground shipping on orders over $100 and free returns, all the time. Usually arrives in 4-7 business days. Each order comes with a prepaid return label for free returns by mail, or items may be returned or exchanged at any Johnston & Murphy store, free of charge.
SHOW US YOUR #JOHNSTONANDMURPHY STYLE
#JOHNSTONANDMURPHY
RATINGS AND REVIEWS
They get better with each wear. Really comfortable all day.
Jason
Charleston, WV
Can't beat the elegant simplicity of these Aristocraft's!
The best!
Gary
John's Creek, GA
Aristocraft are the best shoes I've ever owned
I've been wearing Aristocraft shoes for decades and they last so long I have had most of them resoled and replace them for style reasons rather than they are worn out. The best craftsmanship at J&M in my opinion.
Gary
Atlanta, GA
Great shoe for the price.
David
Houston, Texas
Great shoe for work and special occasions.
I have worn J&M shoes for the past 25 years. They have long lasting wear on the exterior. I usually resole about once a year. They last about five years. I get my monies worth.
Dave
Humble, Texas
Excellence in Dress Shoes
Excellent dress shoes for work or non-work occasions. I had a fine pair of J&M's for years, and mis-ordered a pair from another manufacturer's website a couple of years back. My mistake -- and I researched it and learned it was J&M --- and here I am back again --- with this website and product emblazoned in my mind, never to stray again..... Thanks!
Cleveland Lawyer
Cleveland, Ohio
I would buy this product again
I wear them with a suit
B.J.
California
Quality products, great service, good instore experience
I wear the chukka boots, they are the best ever.
John
Boonton, NJ
Highly recommend this shoe
This shoe is very comfortable,and took no time to break in. I owned a similar shoe by another manufacturer which was more expensive. It was very uncomfortable. I have several other pairs of J&M shoes, so I decided to switch and I'm extremely happy that I did.
DAR
Waterloo, IA
My husband loves them. Nice looking shoe.
Sales people very nice
???
Pa
Hyde Park II Cap-Toe
88.7